About
Yolaine Bodin, Translator & Online Teacher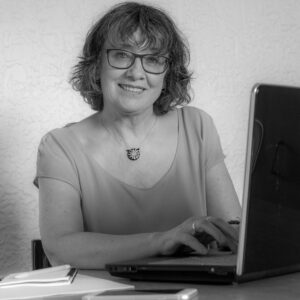 For as long as I can remember, I have always been enthralled by the power of words, how they can  affect communication among people.
From a very early age, I was intrigued by the idea that in other countries, people uttered different sounds, shaping words unheard in my own language, and stringed them according to rules unused in French. This, I felt, offered new perspectives of any given situation in life and gave the world a facet that I found both unfathomable and fascinating.
My strong interest in world cultures, foreign countries and languages, stems from such reflections.
I am a French native and grew up in France, but have worked and lived in Germany, Luxembourg, Belgium and England, the country I chose to attend university and where I graduated to become a teacher of foreign languages. This is why I now teach both English and French as foreign languages.
I have also been fortunate enough to be employed for many years as an in-house translator and proofreader for a U.S.-based international company.
As a result, I love both teaching and translating so much, I decided to combine both jobs. So I started to work freelance in 2013 and offer my language services to meet your requirements, whether you need a translation or language classes .
I have – or had – the pleasure to work with:
       English ↔ French Translation and Edition, Website Creation, keyword integration
English → French Translation, Proofreading, Keyword integration
English and German → French Translation
Teaching French as a Foreign Language classes, French Culture and Civilization courses
English → French and German → French Translation
Contribution to pages of their Book published by Actes Sud Publications "Arbres Remarquables des Hautes-Alpes"
French → English translation
Teaching French as a Foreign Language and Business English (ESL – English as a Second Language)
English → French Translation, Teaching English lessons, French as a Foreign or Second Language classes, Written French and Spelling courses for French speakers,
Translation, Keyword integration, Proofreading:
English ↔ French, German → English , Spanish → English , Italian → English
French → English Translation
CELAC

, Language Centre mandated by the European Institutions, Luxembourg
Teaching French as a Foreign Language classes
Chambers of Commerce of the Hautes Alpes and of Alpes-Maritimes

, Gap, Briançon and Nice
Teaching EFL (English as a Foreign Language) and French courses
Compagnie Fiduciaire Européenne

, Gap
English ↔ French translation and interpretation